This is a great "Do It Yourself" Organic Wipe Recipe
1 tablespoon coconut oil, 1 tablespoon vodka or rubbing alcohol, 15 drops thieves' essential oil, 5 drops organic lavender oil, 5 drops organic lemon oil, 1-1/2 cups warm distilled water, ½ napkins and a plastic container.
Add all ingredients to warm water so the coconut oil will melt and pour into container with ½ napkins. Ready for travel!
More recipes Compliments of A Life Adjacent
These DIY disinfecting wipes make it easy to keep your home clean without problematic chemicals. They're easy to make, natural, and reusable — just wash and re-use! Our homemade cleaning wipes are made without vinegar, so they're safe for use even on porous surfaces like marble & granite. Read on to learn how to make your own disinfecting wipes with essential oils.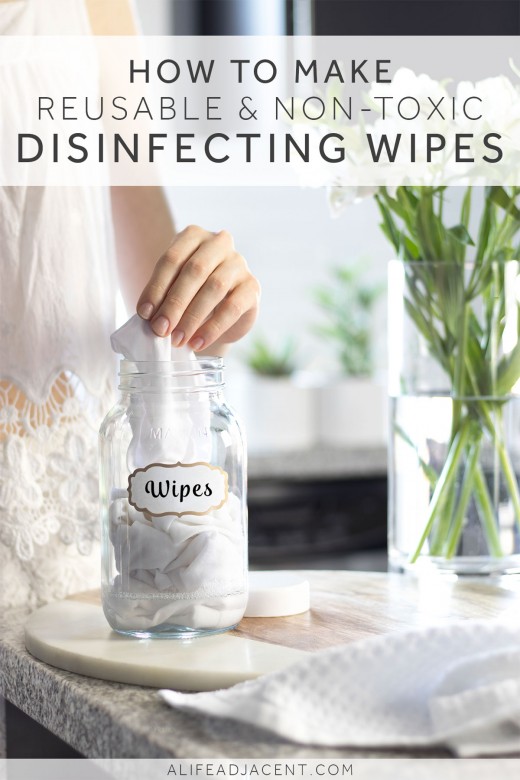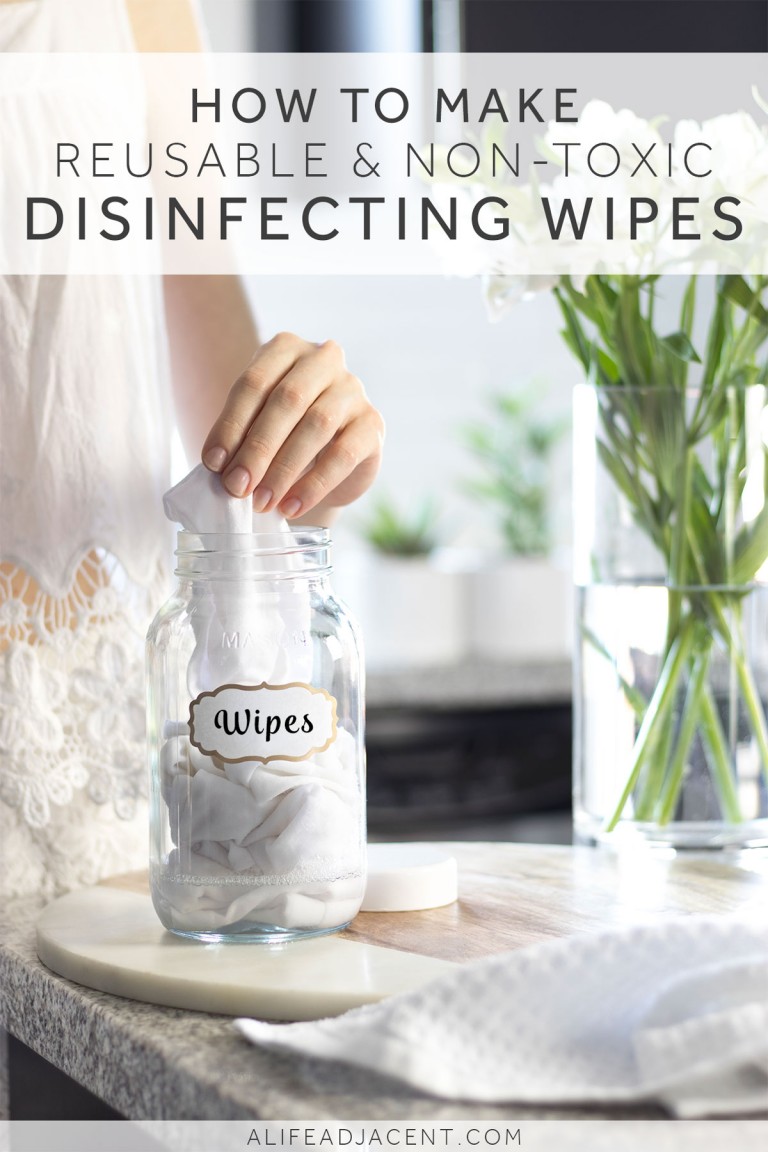 While store-bought disinfecting wipes may be handy for quick cleanups, they're definitely not eco-friendly or good for your respiratory health.
It's safer to make DIY disinfecting wipes for light clean-ups using non-toxic ingredients such as vodka, castile soap and antibacterial essential oils.
Numerous studies have shown that common household cleaning products, including store-brand sanitizing wipes, can actually induce asthma or other respiratory problems in otherwise healthy individuals.
Additionally, the fumes from many store bought cleaning products can trigger an attack in those already suffering from a respiratory condition.
Undisclosed ingredients in commercial disinfecting wipes
To add to the confusion, manufacturers are allowed to keep consumers in the dark about exactly what's in their cleaning products. Unfortunately, current guidelines do not require that ingredient information be disclosed on the product's label.
Recently, more and more cleaning product companies have begun to provide some ingredient information on their company websites. However, often these lists are not specific.
The Environmental Working Group site is a go-to for the ingredient lists manufacturers are allowed to leave off their labels. The EWG also provides consumers additional info — such as the side effects and potential toxicity of each ingredient.
Here is a handy list of many popular commercial wipe brands and their ingredients.
Anyway, if reading about the toxic chemicals in cleaning products comes across as fear-mongering, or if you're thinking, "but how are these homemade wipes going to disinfect my counters?" Well, studies have shown that many essential oils do have antibacterial, anti-fungal and antiviral benefits.
Top antibacterial essential oils for homemade cleaning wipes
The following essential oils (in no particular order) fight bacteria and household odours without any of the negative side effects of store bought household cleaners.
It's important to note that essential oils are only a supplement to the disinfecting properties of the alcohol.
You can make disinfecting wipes with essential oils as long as your wipes recipe also contains effective disinfectants such as high-proof vodka (or rubbing alcohol). Please do not rely on essential oils as your sole disinfectant, especially during an active virus outbreak.
Additionally, you can also substitute the essential oils included in the recipe below for any other combination of antibacterial essential oils from this list:
Eucalyptus
Lemongrass
Tea Tree Oil
Grapefruit
Palmarosa
Cinnamon
Rosemary
Bergamot
Orange
Clove
Oregano
Thyme
Basil
Lavender
Peppermint
Surprisingly, numerous studies have shown that cinnamon is actually the best performing antibacterial essential oil.
Ingredients for DIY disinfecting wipes
I always use high-proof vodka in my homemade disinfecting wipes which is a more natural disinfectant. Vodka also acts as a non-toxic preservative which prevents the growth of mold and pathogens.
However, the alcohol content of the brand of vodka you use for this recipe is very important.
The brand must be at least 70% alcohol, as this is the minimum required percentage needed for killing a broad range of bacteria and viruses while cleaning. This includes bacteria such as E. coli and lipophilic viruses such as influenza.
Vodka brands that meet the guidelines for high alcohol content include:
Everclear – 95% alcohol or 190 proof
Spirytus Rektyfikowany – 96% alcohol or 192 proof
Devil Springs Vodka – 80% alcohol or 160 proof
Good ol' Sailor Vodka – 85% vodka or 175 proof
Balkan 176 – 88% alcohol or 176 proof
Pincer Vodka – 88% alcohol or 176 proof
If desired, you can substitute the vodka in this recipe for isopropyl alcohol (or rubbing alcohol). However, keep in mind that Isopropyl alcohol is highly flammable, easily absorbed through the skin, and its fumes can cause dizziness and migraine headaches in some people.
Also, isopropyl or rubbing alcohol is highly toxic if consumed, while vodka (or ethyl alcohol) is safe for human consumption.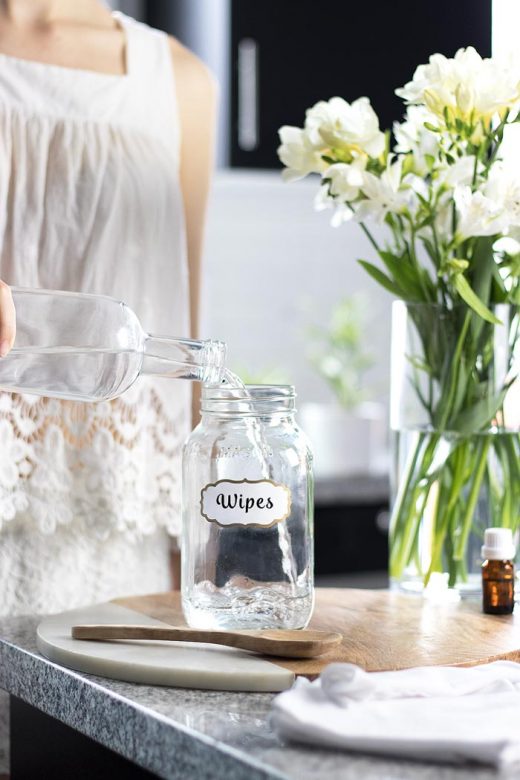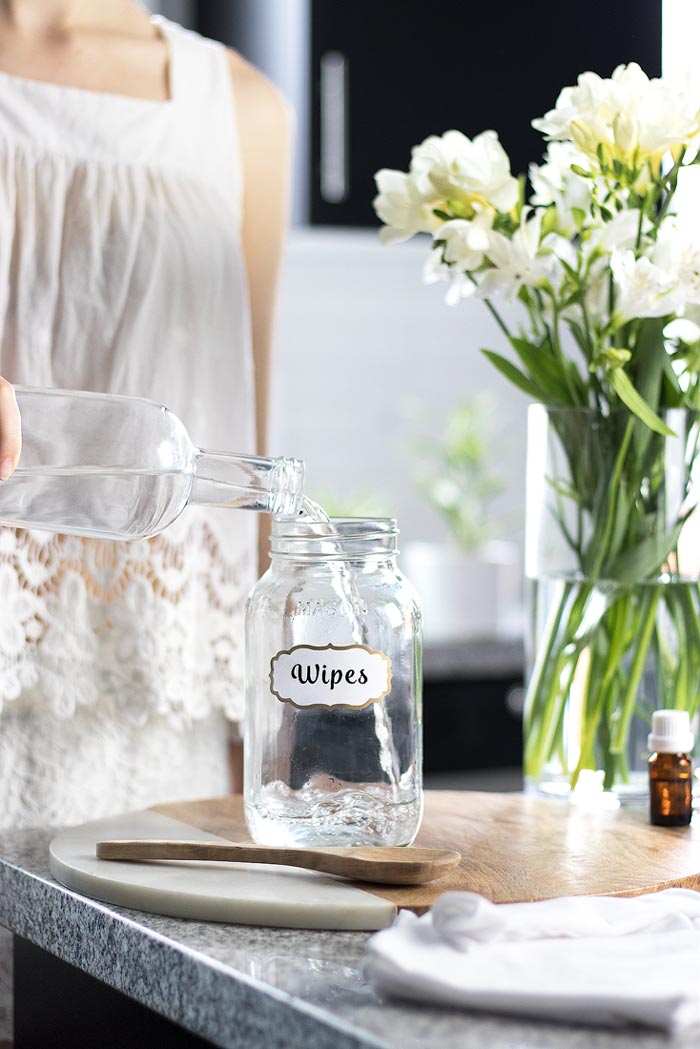 Not that you will be drinking your wipe mixture, but if you're going to wipe down surfaces where little mouths will be, it's safer to use vodka.
I've recently seen DIY wipes recipes containing both vinegar and castile soap, but mixing vinegar with castile soap will cause your mixture to curdle. As well, the acidic vinegar and alkaline soap will neutralize one another, rendering their cleaning abilities useless.
Additionally, vinegar is not safe for stone countertops. So, if you have stone countertops, be wary of any DIY cleaning wipes recipes that contain vinegar. That said, vinegar is still a great natural cleaner and it is safe for many household surfaces.
Save money on cleaning wipes with reusable cloths
You can also save money by making these DIY disinfecting wipes, as the t-shirt squares (or cloths) used in this recipe can be washed and then reused in a subsequent batch. This also means that these wipes are compatible with an eco-friendly, low-waste lifestyle.
If you don't have any old t-shirts on hand or if you would prefer a thicker cloth, there are also many varieties of reusable cloths available depending on your preference.
Heavy-duty microfibre cloths, cotton wipes and biodegradable bamboo clothsare just some of the choices available.
How to use these sanitizing wipes
Before using your wipes, thoroughly clean and scrub the area of any food particles, grease or grime, using a combination of soap and water. Any dirt or debris left on your surface will affect the disinfecting capabilities of your wipes so this is an important step.
You can keep these wipes in your bathroom or kitchen cupboard for quick, light cleanups of household surfaces prone to germs. If convenience is a plus for you, these DIY disinfecting wipes can also be used on the go, and you can trust them to be free of harsh antibacterial agents like triclosan.
These wipes are also safe enough to be used on hands, but be sure to use essential oils that are safer for skin such as peppermint, lavender, tea tree and eucalyptus, and don't touch your face or eyes after use.
Although, it should be noted that soap and hot water is preferable for cleaning your hands. However, these wipes are better than nothing when you're not near a sink.
DISCLAIMER: These cleaning wipes have not been lab-tested to determine their efficiency against viruses so please do not use them for this purpose. Any product used to deal with viruses must include at least 70% alcohol content as recommended by the CDC and other health organizations.
DIY Disinfecting Wipes (Natural & Reusable)
These homemade disinfecting wipes clean and sanitize hands and household surfaces without chemicals. Made with vodka, castile soap and essential oils instead of harsh antibacterial agents. No isopropyl alcohol! Eco-friendly, reusable and non-toxic.
Prep Time10 mins
Total Time10 mins
Course: Green Cleaning, Green Living
Cuisine: DIY Products
Servings: 1 batch
Author: Kim @ A Life Adjacent
What You'll Need
Supplies
Mason jar with lid or a sterilized pickle jar

Old white t-shirt cut into squares

(or microfibre or other inexpensive cotton cloths)
Instructions
Pour the vodka into your sterilized mason jar.

Add the essential oils which will combine easily with the alcohol. Shake vigorously to combine.

Add your soap and then gently swirl it into the mixture. Please note, shaking will cause the castile soap to sud.

Roll your cloths as shown in the photo and place them in the mason jar.

Replace the lid and again swirl gently so the cloths become soaked with the liquid.

Store your sanitizing wipes with the lid tightly secured in a cool, dark place such as under the kitchen or bathroom sink.
Notes
Your DIY sanitizing wipes should last approximately 3-4 weeks if stored correctly. We do not recommend storing products with high concentrations of essential oils in plastic bottles or containers. We use glass storage containers for all of our DIY products with essential oils, as essential oils are extremely potent and can leach toxins from plastic containers. Please consult with your health care provider about using essential oils, especially if you're pregnant or breastfeeding, have allergies, or have small children in your home. Certain essential oils such as rosemary, clove and eucalyptus are contradicted for use during pregnancy. As well, certain essential oils such as rosemary, peppermint, oregano and eucalyptus should be avoided, or used with caution around children under 10.
More DIY cleaning recipes
Looking for more eco-friendly cleaning and home ideas? Check these out: